Saskatchewan Mining and Minerals Inc. (SMMI) is very excited about our SOP opportunity. The ability to pivot into a growing, vibrant market is critical to our long term plans and we are very pleased to have the Government of Saskatchewan's support. They have been responsive and supportive throughout the process looking at potential new and innovative ways to help support our future plans.
Brent Avery, General Manager, states: "I would also like to specifically thank Lumsden-Morse MLA Lyle Stewart. He has been a champion of Saskatchewan Mining and Minerals Inc. for a very long time. He understands business and is a champion for all his constituents."
We here at SMMI look forward to a successful plant upgrade!
Fertilizer Production Expansion Project Set to Increase Jobs and Exports for Saskatchewan
The Government of Saskatchewan supports the Saskatchewan Mining and Minerals Inc. (SMMI) project to significantly upgrade its sodium sulphate plant in Chaplin.
SMMI's $220 million sulphate of potash (SOP) fertilizer production upgrade, once complete, is expected to result in a 50 per cent increase in jobs at the Chaplin facility and more than 360 construction jobs. The upgraded facility is expected to produce 150,000 metric tonnes of SOP per year, which will be sold to North American and international markets as a high quality fertilizer and plant nutrition product. Further expansion is planned to increase SOP tonnes and utilize reserves at Ingebrigt Lake.
"In this year's budget, we changed sodium sulphate royalties to help complement and diversify our potash sector, as we continue to export fertilizer to the world," Energy and Resources Minister Bronwyn Eyre said. "As demand increases for these new products, we expect potash royalties to increase. This is about adding value: while sodium sulphate, as a stand-alone product, is somewhat in decline, the profitable SOP market has a strong long-term outlook."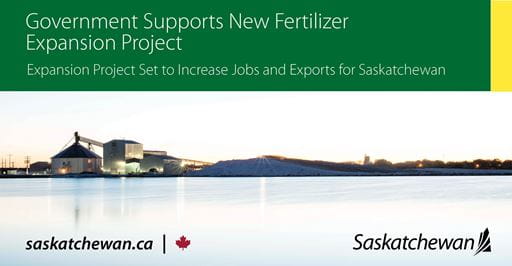 The project is conditionally approved for the new Sodium Sulphate Incentive, which provides a 10 per cent credit for capital projects that diversify products or improve operating efficiency. In addition, the provincial government has reduced the royalty rate for sodium sulphate production from four to three per cent to support the sector through the transition.
"The Saskatchewan government clearly understands the immediate and long-term role that rural projects such as ours can play in strengthening and building Saskatchewan's economy as we emerge from the COVID-19 pandemic," Saskatchewan Mining and Minerals Inc. President Rodney McCann said. "Their active and ongoing support of our SOP upgrade is critical to it moving forward in these uncertain times and a clear demonstration of their commitment to making their 10-year Growth Plan for Saskatchewan a reality."
The upgrade also received conditional approval under the province's Saskatchewan Chemical Fertilizer Incentive (SCFI). The SCFI is a non-refundable, non-transferable 15 per cent tax credit on capital expenditures valued at $10 million or more for newly constructed or expanded eligible chemical fertilizer production facilities in Saskatchewan.
"This is very exciting news for our province and especially for the community of Chaplin, as this announcement will bring significant immediate and long-term economic benefits," Lumsden-Morse MLA Lyle Stewart said. "It will protect and create jobs, all the while keeping an important industry in my constituency."
SMMI has been producing sodium sulphate at its Chaplin facility for over 70 years. The current Chaplin site is situated on the TransCanada Highway and the Canadian Pacific main east-west line.
https://www.saskatchewan.ca/government/news-and-media/2021/may/05/government-supports-new-fertilizer-expansion-project